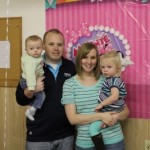 In the summer of 2010, the Lord began to work on the heart of Brian McClure about serving in full time ministry. After a few years of wrestling with the call, Brian surrendered to the Lord and surrendered his life to the ministry.
In February of 2013, Brian was named the assistant pastor of Faith Baptist Church. For a short time he served as part-time assistant pastor while also teaching math full time at South Putnam High School. One year later, in the summer of 2014, the church voted to increase his salary and allow him to become the full time assistant pastor of Faith Baptist Church.
Brian is married to the former Tiffany Gentry of Ellettsville, Indiana. They have three daughters: Kaylee, Brooklyn, and Arianna.
Pastor Brian is currently taking an on-line Bible course as he serves in the church. He teaches the Young Adult Sunday School class, Sunday night and Wednesday night teen classes, and heads up the Monday night basketball ministry. You can follow him on twitter @mcclure24.